The Conversation: The Bad Girls of Reality TV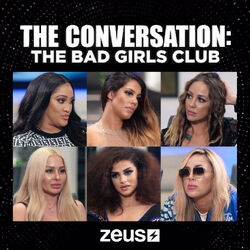 Series Information
December 6, 2020 - December 13, 2020
2 episodes
Cast
Series Chronology
--
Baddies ATL
The Conversation: The Bad Girls of Reality TV is a web reality TV two-part special created by Zeus Network, as a part of the network's series The Conversation, produced by Ray J and Princess Love. The episodes feature several veteran bad girls from various seasons to discuss ongoing tensions and drama that ensued between the girls.
The two-part special aired on Zeus on December 6, 2020 and concluded on December 13, 2020. Following this special is Zeus Network's original series, Baddies ATL.
Format
Several bad girls return in a raw, uncut two-part special
Unlike Bad Girls Club, who had production team who was around. This web series isn't having anyone but the film crew and just the bad girls. This is the first time Bunim/Murray Productions or Oxygen isn't involved in the BGC franchise.
Cast
Episodes
Triva
Videos