Season 4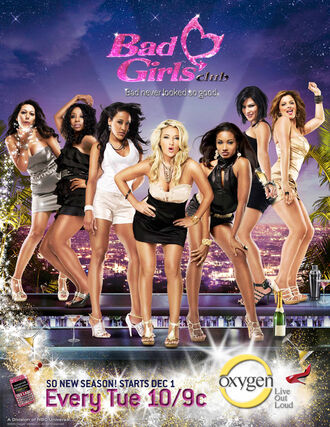 Season Information
4
Los Angeles, California
December 1, 2009 - March 23, 2010
16 episodes
Portia vs. Natalie
Perez Hilton
"Bad never looked so good."
Cast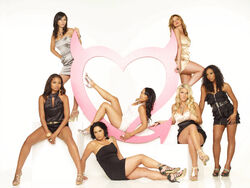 Season Chronology
Season 3
Season 5: Miami
Season Four is the fourth season of the Oxygen reality television series, Bad Girls Club. The fourth season was also the last season to film in Los Angeles, California until season six. Perez Hilton returning as the host.
Cast
Original Bad Girls
this season was the same as the other three first seasons, but this time time things were planned out this seasons by the
Image
Bad Girl
Age
Hometown
"Bad Girl" nickname
Amber McWha
23
Morgantown, West Virginia
"The Trash Talker"
Amber may look sweet and innocent here, but this girl can be really bad. Confidence is the key to sexiness and Amber has totally mastered it by her appearance. To set the mood, Amber likes sultry slow jams by Marvin Gaye and Luther Vandross. Amber's fashion icon is Jennifer Anistonwe.
Annie Andersen
25
Los Angeles, California
"The Control Freak"
Annie is the sweet bad girl who loves to flirt and pick up guys. For some reason, Annie always seems to attract married men. She may be little ditzy, but she sure does love to party. She looks innocent, but this girl can get naughty, too. Annie loves feeling sexy and playful and just having a good time.
Florina "Flo" Kaja
26
Staten Island, New York
"The Enforcer"
Flo's confidence shows her tough bad girl side. She likes to feel sexy with massage oil and R. Kelly tunes. Flo is a good friend to have on your side. She will always have your back. She may look tough and hard, but Flo has a little sweet side.
Kate Squillace
23
Boston, Massachusetts
"The Prima Donna"
Kate is gorgeous and a bad girl. What a deadly combination. A total blonde bombshell, Kate loves to have fun. She will not let anyone run her out the house without putting up a fight. Kate loves sexy dresses and high heels.
Kendra James
22
Charlotte, North Carolina
"The Double Standard"
Kendra is a bad girl with a whole lot of personality. She likes to feel sexy by listening to R&B music and sometimes watching x-rated movies. Kendra is a strong woman who loves to wear booty shorts and have a good time. Kendra is proud to be bad and not ashamed to admit it.
Natalie Nunn
24
Oakland, California
"The Socialite"
Natalie has serious potential to the be the baddest bad girl in history. She totally craves attention and she loves to be the boss of everyone. Natalie is totally into gold digging and she's not ashamed to admit it. Just because she is tough, doesn't mean she doesn't like to have some fun.
Portia Beaman
24
Bronx, New York
"The Pistol"
Portia is a fierce and fearless bad girl who loves sexy bras and heels. Portia is totally comfortable being herself in front on the cameras. What you see is what you get. Portia is really into motorcycle jackets and thigh high boots and is inspired by Christina Milian's style
Replacement Bad Girl
This season once's again had one replacement comes to replace a other fellow bad girl.
'Image
'Bad Girl
'Age
'Hometown
'"Bad Girl" nickname
'Replaced
Lexie Woltz
21
Belleville, Illinois
"The Wild Child "
"Portia"
Meet Sexy Lexie, the newest Bad Girl. Lexie is a self-described "Barbie," complete with blonde hair and blue eyes. An Army brat, Lexie has lived everywhere from Germany to Kentucky. Lexie says, "I hate being told no and I always seem to get what I want, one way or another".
Production
Bad Girls Club 4 was produced by Bunim/Murray Productions with Kasey Barrett, Claudia Frank and Esther Frank returning as the main producers of the show. Oxygen renewed its series two months prior the season premiere of season 5. Production of the season 4 began in June 2009 in Los Angeles County, California, similar to season's 1-3. Casting for season 4 was done by the head-casting Aja Kimura and over twenty other casting directors. Casting began several weeks before the season premiere of season 3 with potential applicants submitting video tape submissions. Applications were due by November 30, 2008. Casting calls, similar to previous seasons of the Bad Girls Club, began in Los Angeles, California and later other major cities Atlanta, Georgia, Buffalo, New York, Oakland, California, Chicago, Illinois, and Philadelphia, Pennsylvania.
The House
The Bad Girls Club house, similar to previous seasons, features free accessories such as shoes, purses, and jewelries which were displayed as add-ons on the walls of the house. Inside the house, in the middle, has a "light fixture" which features, "girly" colors such as pink and purple décor. The fixture was also made up of patterns of high heels which was displayed above the centered circular small black couch. In the living room, the girls was given spotted light color couches which was in front of paintings of various cities. Close to the paintings, were, the "Bad Girls Club oath" which sits above the fireplace. The girls was also give a 1960s replica of a Trimphone, instead of today's modern house phones. Inside the girls rooms, features adult toys and statues of half naked men which were displayed on the walls of some of the girls rooms. Like season 4, season 5 also had the "Screaming O" vending machine which the girls had to pay a fee in order to receive adult toys, similar to a full-line vending. The vanity room, also features, 1960s furniture, which the girls go constantly to apply beauty supplies and/or get ready for a night club. The jacuzzi was placed, alongside, in front of the computer which had speakers cornering the computer. The jacuzzi was also placed inside the bad girls house. In the back of the house, the girls was given a modern pool, and a outside modern swing, which the girls could get some shade. Inside the pool, however, features a queen size floating bed which floats around the pool. The kitchen features a more 1970s look, with light colors. The girls were also given gas stoves. The kitchen table featured light green, black, white, and orange colors.
Around the house, former bad girls, most famous quotes and a picture of themselves were displayed all over the mansion. For the "new comers" their self-portraits were left blank. When Natalie and Annie showed up first inside the house, they quickly targeted the other new girls pictures with first impression comments, which didn't sit right when the girls began arriving to the house. Once Portia left, her most famous quote was displayed, along with her photo, in the bad girls house. During the season finale of season 4, all seven girls were given their spot on the walls with their most famous quotes and a picture of themselves.
Pictures of former bad girls housemates were displayed around the house, where the most intense arguments, fights, and break-downs occurred, a photo of their breakdowns were also featured in the locations where the moment had happened.
Format
The format remained largely unchanged from previous seasons. A group of seven rebellious women who are between the ages of 21 and 27 move into a mansion and must try to co-exist with different personalities, lifestyles, race and sexual orientation. Most importantly they must try to adapt to the frequent changes of moods and behaviors of their roommate. The seven "original" bad girls must also abide by all the rules that were given to them prior to moving in such as no violence towards anyone including the producers, the girls must not intrude a "bad girls" production room]and must tolerate various interviews in their diary rooms. The girls must also follow normal rules of the country when leaving the house to go on dates, personal tasks and/or parting. During the show, the girls are put into situations where some must divide the house, create havoc to satisfy oneself, book parties and hook ups in clubs, groceries shopping and they must also juggle everything including their own personal lives. The girls are allowed to contact their families and their personal relationship partners, the girls are given either a laptop or a [big screen TV that futures a home computer. The girls are also allowed to have frequent visitors to see them.The girls must go through tough situations such as fights (arguments, spitting, food fights, breaking of personal belongings, and personal attacks) and physical fighting such as physically touching another "bad girl" with intentions of hurting that person, which is what each season of girls has to overcome.The girls are thrown in the house and are there to co-exist and must tolerate everyone in order to "make it" at the end of the season and they accomplish this by staying in the show without being removed due to physical fighting.
In some cases, some "bad girls" may wish to leave the show due to a number of reasons. For example, issues at home, girls thinking that they are better than the others or mostly due to the fact that some could not deal with the tensions and stress. Some of the females had to deal with bullying and double tagging a "bad girl". A replacement is usually introduced in the house an episode or two after one bad girl leaves the show or is removed. The "original" bad girls are then seen dominate and stick together to try to intimidate the replacements unless the "newbies" are just like them. Bullying and tag teaming are seen throughout the series of the Bad Girls Club due to making personal friends and having ones back or if a group of girls dislike another they would form a way to make sure that the other girl is gone within a day of bullying. At the end of the show, some girls change their ways which is the key of the show to change the girls "bad behaviors" and turn them into role models by placing seven girls of the same behavior with different reasons as being "bad" in one house. This season only had one replacement for the entire season .
Duration of cast
Bad Girls
Season 4 Episodes
1
2
3
4
5
6
7
8
9
10
11
12
13
Amber
FEAT.
Annie
FEAT.
Kendra
FEAT.
Lexie
REP.
FEAT.
Kate
FEAT.
REM.
Natalie
FEAT.
REM.
Florina
FEAT.
LEFT
Portia
FEAT.
REM.
APP.
Notes
Key:

    

= "Bad Girl" appears on this episode.
Key:

    

= "Bad Girl" replacement arrives.
Key:

    

= "Bad Girl" voluntarily leaves the show.
Key:

    

= "Bad Girl" removed from the show.
Key:

    

= "Bad Girl" makes an appearance.
  1  Portia was removed from the house in episode 4 after a physical altercation with Natalie.
  2  Lexie replaced Portia in episode 5.
  3  Portia made an appearance in episode 7.
  4  Florina voluntarily leaves the house in episode 10 after an altercation with Kendra.
  5  Natalie was removed from the house in episode 11 after a physical altercation with Kendra, Amber, and Lexie.
  6  Kate was removed from the house in the season finale after she had punched Annie and started a physical altercation with Amber and Lexie.
Episodes
Florina Kaja's special Bad Girls Club: Flo Gets Married, which centered around Kaja's marriage and pregnancy, aired on February 28, 2011. It acquired 859,000 viewers.
No.
Title
Original air date
U.S. viewers

(million)

1
"Off the Wall"
December 1, 2009
0.87
In the Season 4 premiere, seven new "bad girls" — Annie, Flo, Kate, Kendra, Natalie, Portia and Amber — swoop in on a luxury Los Angeles mansion and try to coexist with one another.
2
"I Run LA!"
December 8, 2009
N/A
Natalie is in for a rude awakening when the other Bad Girls won't bend to her ways. As the other girls resist Natalie's various attempts at house dominance, Kate quickly discovers her inner Bad Girl when she stands up to Natalie by spraying Windex in Natalie's face. Kendra and Natalie's budding alliance is threatened when the two come to blows during an explosive argument, which results to Natalie punching her in the face two times.
3
"No More Mr. Nice Girls"
December 15, 2009
1.42
A push for house dominance and an unexpected betrayal highlight the dramas between Flo and Natalie. Kendra makes a fateful decision that divides the house in two.
4
"Can Buy Me Love"
December 22, 2009
1.67
Portia's home life takes its toll, and she snaps when Natalie goes too far; Annie tries her luck at speed dating. Portia finally snaps when Natalie goes too far with her self which leads to a heated argument. Portia is sent home immediately after attacking Natalie for "degrading her parenting skills."

Note:      Portia is removed from the show.

5
"Don't Sweat the New Bitch"
January 5, 2010
1.82
The newest bad girl, Lexie, arrives at the house and stumbles into a house divided where she is expected to choose sides. Natalie's relationship with Olamide takes a turn for the worst, leading her to set her sights on a new man.

Note:      Lexie replaces for Portia.

6
"Paul and Kate Plus Hate"
January 12, 2010
1.73
Kate's boyfriend Paul visits, bringing out the worst in Natalie and prompting Kate to defend her man's honor which almost leads to a fight between the two caused by Natalie spitting on her. Flo's disapproval of Kendra's promiscuous lifestyle leads to a confrontation between the two which case Kendra slaps Flo and Flo pushes her. Lexie has trouble finding a guy she is interested in Los Angeles.
7
"Bad Break"
January 19, 2010
2.09
When Flo sets out to impress a woman, an appalled Amber's disapproval of Flo's same-sex desire ignites a fiery confrontation that might change the house dynamics for good. One bad girl may be sent packing after a big brawl out with bi-polar roommate. The ladies pose for a photo shoot and they reassemble with a controversial "bad girl."
8
"Friend??? Or Frenemy?"
January 26, 2010
N/A
Natalie lures Kate into an unlikely alliance, triggering an angry backlash from the rest of the ladies. Annie, fed up with being walked all over, finally develops a harder edge and defends herself.
9
"Sex, Lies and Bigfoot"
February 2, 2010
1.67
Kate explores carnal adventures with her come-hither gal pal Trish, a move that jeopardizes her relationship with Paul. Meanwhile, Natalie and Flo, once allied bosom buddies, now square off as rancorous enemies.
10
"Go With the Flo"
February 9, 2010
2.27
Flo's toxic attitude continues to alienate the girls, leading to the most shocking goodbye in Bad Girls history. Meanwhile, Natalie gains Amber's respect during a street brawl between Amber and a club patron. Amber's boyfriend visits, giving Amber a new sense of hope for their relationship. Flo leaves the house after a fight with Kendra.

Note:      Flo voluntarily removes herself from the house.

11
"The Puppet Master"
February 16, 2010
N/A
The ladies head to Santa Barbara for vacation and a respite from thorny mansion politics. House rivals Amber and Kate stay home and Annie continues to pull vicious pranks on her. Kendra and Natalie get into an argument which results in a street fight.

Note:      Natalie is removed from the show.

12
"Clip Show"
February 23, 2010
N/A
The clip show allows viewers to see what they didn't get to see on TV and also personal thoughts from the original eight bad girls about their season. Included in the special are never-before seen footage and extras that weren't showed on television. Flo makes an unsurprised appearance looking to confront Natalie.
13
"Amber Alert!"
March 2, 2010
N/A
Annie comes out swinging, wielding her new found sense of power by rounding up the other ladies and leading a charge to evict Kate from the mansion. Elsewhere, two familiar folks arrive for an innocent visit.
14
"Out With a Bang"
March 9, 2010
N/A
In the Season 4 finale, the remaining "bad girls" bid adieu to one another. They decide to go out with a big bang by planning a grand bikini parade and taking a cross-country adventure.

Note:      Kate is removed from the show.

15
"Reunion — Part 1"
March 16, 2010
N/A
The Cast of Season 4 return back in L.A. to discuss what happened during their 3 month stay in the Bad Girls Club House. Kate returns and explains what made her snap and hit Annie and attack Amber. Natalie returns and spits on Kate again which causes a fight. Flo's anger leads to a table-flipping showdown with Natalie.
16
"Reunion — Part 2"
March 23, 2010
2.62
Flo gets to the root of her anger and attacks Natalie then argues with Perez Hilton. Portia and Natalie face off one last time.
Trivia
Season 4 was the first season to have had a two-part reunion show.
The fourth season along with season 2, season 9 and season 7 goes down as one the most memorable seasons in BGC history.
This season is most memorable for introducing Bad Girl Natalie Nunn to the TV screens with her wild and malicious bad girl behavior. She is well-known for her iconic quote in BGC "I Run LA!".
Bad Girls Club 4 became Oxygen's "most watched Television show" beating out the previous season.
Three bad girls this season appeared in numerous Bad Girls Club spin-offs following the filming the fourth season.