Season 2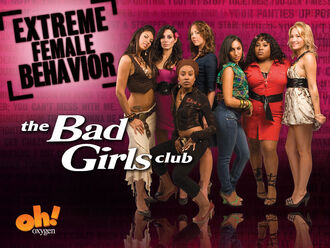 Season Information
2
Los Angeles, California
December 4, 2007 - May 20, 2008
24 episodes
Star Jones
"Extreme Female Behavior"
Cast
Season Chronology
Season 1
Season 3
Season Two is the second season of the Oxygen reality television series, Bad Girls Club. This season's reunion host was hosted by Star Jones. This season was a huge success for Oxygen with giving heavy promotion. The cast also got to guest star on The Tyra Banks Show shortly after filming. Tanisha Thomas was the first breakout star in the BGC franchise, and the influence of the bad girl behavior that is seen as the seasons process.
Cast
Original Bad Girls
Image
Bad Girl
Age
Hometown
Tanisha Thomas
21
Brooklyn New York
Tanisha is a full-figured gal from Brooklyn who speaks her mind and isn't afraid to stand up for herself. She wasn't grown with "hugs and kisses". Tanisha explains she is a bad good because she doesn't start nothing she waits for someone else to start so she can "Pop Off!".
Cordelia Carlisle
22
Wallingford, CT
Cordelia comes from Connecticut and is stripping her way through college and aspires to be a lawyer. She had made mistakes and had to learn the hard way, but it continues to make her stronger. She considered to be underestimated a lot of times but don't be fool because she is strong mind and intelligent.
Neveen Ismail
24
Portland, OR
Neveen is a quick to judge person and has no problem admitting it. She quick to judge her roommates Cordelia as while other girls in the house that is not so pleasant. She stand with her head high to all the girls, and will fight with anyone with quick comeback.
Jennavecia Russo
26
Las Vegas, NV
Jennavecia is problematic party girl who leaves her territory where ever she goes. She feuds and instigate with almost all the girls in the house. She states that she has bad habit "of turning bad situation, in-to worst situation". She overalls, wants to have fun but won't be run by anyone. Jenn see herself as "leader" in her town and is up to battle against anyone in the Bad Girls Club house.
Darlen Escobar
25
Austin, TX
Darlen has multiple nicknames like "Drama Darlen, Drunk Darlen, Downtown Darlen". Also, she is hot head and isn't afraid to stand up to anyone no matter what gender or size. A lot of her problems are kept secretive until she just goes insane. Darlen stares "that's why I'm crazy".
Hanna Thompson
22
Brooklyn, NY
Hanna is tuff blonde who doesn't care for what your opinion is. She can be really nice to you and then also can change be straight up rude and mean. She explains "you just never know what side of Hanna your gonna get". Hanna won't get involved in the drama unless it's for good reason .
Melissa "Lyric" Greene
22
Phoenix, AZ
Lyric is bad girl who doesn't take anything from anyone. Being question is something she despise being she is free-sprinted and can't be stop. Lyric has run into to problems along the journey due to expensive issues. Otherwise she determined to handles business and succeed onward.
Replacement Girls
In every season of the Bad Girls Club one or more cast member will be asked to leave the house either due to violence, physical fighting, or for disinterest in remaining on the show. The producers then add a new "bad girl" who arrives to the house in a day or two of the bad girl who left.
Image
Bad Girl
Age
Hometown
Replaced
Andrea Sharples
22
Portland, Oregon
"Lyric"
Andrea is from Portland, Oregon. She is bad girl cause she does whatever she wants and doesn't regret anything. Like anyone else she struggled with past drug addictions and bulimia that she has overcome now strongly. Andrea is open to make new friends and will be polite if you are to her.
Duration of Cast
Bad Girls
Season 2 Episodes
1-7
8
9-12
13
14
15-20
21
22-23
Cordelia
FEAT.
Darlen
FEAT.
Hanna
FEAT.
Neveen
FEAT.
Tanisha
FEAT.
Andrea
REP.
FEAT.
LEFT
Jennavecia
FEAT.
LEFT
Lyric
FEAT.
LEFT
Notes
Key:

    

= "Bad Girl" appears on this episode.
Key:

    

= "Bad Girl" voluntarily leaves house.
Key:

    

= "Bad Girl" replacement arrives.
Key:

    

= "Bad Girl" is removed from house.
  1  Lyric voluntarily left the house in episode 8 for feeling that her roommates negative behavior was affecting her badly and a altercation with Tanisha.
  2  Andrea replaced Lyric in episode 13.
  3  Jennavecia voluntarily left the house in episode 14 after a physical altercation with Tanisha'.
  4  Andrea voluntarily left the house in episode 21 after the roommates discovered her blogs that she'd written about them.
Episodes
No.
Title
Original air date
Production code
1
"Bad Company"
December 4, 2007
201
Lyric, Hannah, Cordelia, Tanisha, Neveen, Jennavecia, and Darlen are the newest girls to join the Bad Girls Club. Cordelia quickly breaks down when Darlen says a false remark of her past life which leads Tanisha to defend her.
2
"Battle Lines"
December 11, 2007
202
Darlen and Jennavecia start trouble with Tanisha and Cordelia. Lyric tries to boost her music career.
3
"Spilled Milk"
December 18, 2007
203
The girls try to get along but two bad girls start to argue. Neveen starts making comments about Cordelia's past which leads Neveen throwing a gallon of milk on Darlen.
4
"Music and Lyric"
January 1, 2008
204
Lyric proves to the girls that she is on her own and doesn't need friends. Tanisha and Cordelia become enemies and Darlen and Neveen makeup. Lyric tries to start her music career.
5
"Pop Off!"
January 8, 2008
205
Tanisha continually puts Cordelia down, but things become more tense when Cordelia regains her confidence.
6
"Prank Wars Part 1: Party Girls Strike Back"
January 15, 2008
206
A battle rages as two household groups, the Hyenas and the Party Girls, start playing pranks on each other. Meanwhile, Cordelia's flirting with another man are causing issues with her fiancé.
7
"Prank Wars Part 2: Mark Your Territory"
January 22, 2008
207
After discovering that the other girls took apart "Clay Boy," Tanisha decides to fight in the Prank War back along with Neveen and Hanna.
8
"Prank Wars Part 3: Phat Lady"
January 29, 2008
208

Tanisha decides to take over the house and show the real her which bothers lyric. Tanisha and Lyric get into a heated argument and Jennavecia tries to mess with Tanisha. Meanwhile, Lyric decides to leave the house. Note:      Lyric voluntarily leaves the house.

9
"Love Conquers All"
February 5, 2008
209
To help her cope with a shattered romance, Cordelia hits the bottle. Meanwhile, the other roommates offer support to Darlen as her drinking intensifies.
10
"Return of the Juice, Death of the Truce"
February 12, 2008
210
Tanisha and Jennavecia use pranks to climb their way to the top, which causes a huge brawl between the two. Darlen contemplates her status in the Party Girls after having received a sobriety award.
11
"Sucker Punched"
February 19, 2008
211
Tanisha and Jennavecia take responsibility for their actions. Meanwhile, Cordelia is fed up with Scott and worries that dumping Taylor was a mistake.
12
"Taken for a Ride"
February 26, 2008
212
Tension erupts between Tanisha and Jennavecia, after Tanisha discovers that it was Jennavecia who put hot sauce in her juice, leading to a physical brawl.
13
"Cordelia and the Chamber of Secrets"
March 4, 2008
213

Jennavecia fakes being sick to get out of going to a meeting with Craig. She quits her job. Cordelia misses her boyfriend and regrets her decision to break up with him. Meanwhile, a new roommate Andrea arrives. Note:      Andrea replaced Lyric.

14
"Bad Riddance"
March 11, 2008
214

Jennavecia quits her job and must leave the house. Cordelia emerges as the new leader of the Party Girls. Note:      Jennavecia voulntarily left the house.

15
"With Friends Like These..."
March 18, 2008
215
An ex-roommate badmouths Cordelia to Scott and Cordelia is looking for someone to blame.
16
"Threesome and Then Some"
March 25, 2008
216
Cordelia and Andrea's friendship is taken to the next level when a male visitor arrives at the house. Meanwhile, the girls throw a lingerie bash.
17
"Disorderly Conduct"
April 1, 2008
217
Darlen grows jealous of Andrea's growing friendship with Cordelia. Meanwhile, Tanisha throws a slumber party in attempt to reunite the girls.
18
"The Ugly Drunkling"
April 8, 2008
218
Drunken Cordelia becomes an emotional wreck and vocalizes her deep-seated "ugly girl" complex. Tensions continue to rise between Cordelia and Andrea, and Cordelia's past is revealed to the Hyenas, who use every opportunity to exploit it, forcing Cordelia to alienate the other girls. Andrea vents via an online blog that may come back to haunt her.
19
"Ghouls Gone Wild"
April 15, 2008
219
Darlen frustration in the house is released on a club patron on the street. Meanwhile, Cordelia decides to stop drinking and seeks help from her housemates.
20
"Three's a Crowd"
April 22, 2008
220
Andrea's boyfriend Josh visits the house and repulses all the girls, especially jealous Cordelia. When one of the girls leaves her MySpace blog unattended, the stage is set for a colossal confrontation.
21
"Happy Trails"
April 29, 2008
221

Andrea gets upset after the other girls give her a hard time for what she wrote in her diary and decides to leave the house. Meanwhile, the girls go out to a bar and get in a bar fight and Tanisha gets arrested. Note:      Andrea voluntarily leaves the house.

22
"Pimp Down"
May 6, 2008
222
Cordelia consoles Tanisha over the phone during Tanisha's time in jail. Meanwhile, When Tanisha arrives back from jail, and heated argument occurs between her and Neveen.
23
"All BAD Things Must Come to an End"
May 13, 2008
223
Tanisha is still angry with the other girls about her stay in jail. The girls all say a tearful good-bye at the airport.
24
"Unfinished Business"
May 20, 2008
224
Jennavecia finally confronts Cordelia and the Hyenas, Andrea faces off with Darlen and Lyric returns to the stage and gets into a heated argument with Tanisha.
Trivia
This is the first season, where no one of the replacements made it to the end of the show.
The second season is one of the most memorable early on seasons in BGC history due to breakout star Tanisha Thomas for her unique personality and memorable quotes like "Pop off, son!".
Tanisha's scene where she wakes up her fellow housemates with pots and pans has been considered a cultural phenomenon for reality TV, with the scene being used in memes and social media.
Tanisha is the first bad girl to ever use the term "Pop Off" ever in BGC history.
This is the second season also beat the ratings and viewership of the first season.
The second season was the final season to air 30 minute episodes.
This is the final season to air over 20 episodes in one season, counting reunion specials.