Season 1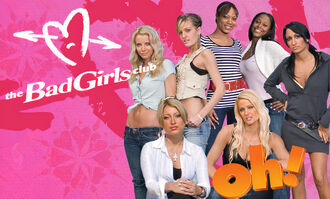 Season Information
1
Los Angeles, California
December 5, 2006 - June 5, 2007
22 episodes
Stan Katz
Cast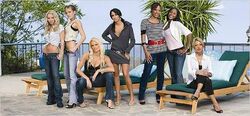 Season Chronology
Season 2
Season 1 is the first season of the Oxygen reality television series, Bad Girls Club. The season premiered on December 5, 2006 and concluded on June 5, 2007. This is the first season to feature seven self-proclaimed "bad girls" who move to Los Angeles, California. The show premiered to the highest ratings ever in Oxygen's history, and it was the first season to break the 1 million mark in viewers.
Following the season finale, two specials aired as its predecessors.
Cast
Bad Girls Club takes seven individual self-proclaimed "bad girls" who have serious anger issues who move into a luxurious bachelor pad in Los Angeles who are dealt with numerous camera crew who films every minute of the girls personal life and relationships and their fights with each other.
Original Bad Girls
Image

Bad Girl

Age

Hometown

Aimee Landi
24
Pennsylvania Philadelphia
Aimee Landi is an abrasive 24 year old from South Philadelphia. Aimee Landi gets into physical fights from time to time - which she credits to her father, who used to encourage her to stand up for herself. Aimee Landi believes she doesn't need to take attitude from anyone and reacts harshly to any criticism. Aimee Landi pulls no punches when dealing with others. Aimee Landi is a loudmouth who doesn't get along with other girls and can't hold a job because of her tell-it-like-it-is persona. 
Jodie Howell
29
Baltimore, Maryland
Jodie Howell, a 29 year old from Baltimore, is a Playboy Bunny blonde with a brain. Conservative office worker by day, Jodie turns into a sexy social butterfly at night, often engaging in fights with girls in bars. Jodie is the first one to shake her booty on the dance floor and have a blast in a club - yet when provoked, she's been known to mace an entire dance floor. A rebel from a religious background, Jodie loves to have fun and is aware of her outrageous, sometimes vindictive, behavior.
Kerry Harvick
31
Nashville, Tennessee
Kerry Harvick-Kersh is an original bad girl on Season 1. Kerry is currently 42 years old and she resides in Nashville, Tennessee.
Leslie Ramsue
24
Atlanta, Georgia
Leslie Ramsue is a 24-year-old exotic dancer from Atlanta, who realizes the path she's on and doesn't want to dance for much longer. Leslie is conflicted because she loves the money she makes and the lifestyle she leads, but doesn't want to end up as an old and jaded dancer. Leslie has had to deal with a rough past - physical assault and being used by people close to her - but she believes that she grew stronger for it. Leslie loves to design and has a great sense of humor. Leslie is also a self-proclaimed dare-devil and rides a motorcycle.
Ripsi Terzian
23
Watertown, Massachusetts
Hripsme "Ripsi" Terzian is an original bad girl on Season 1. Ripsi was 23 and resided in Watertown, Massachusetts during filming.
Ty Colliers
25
Atlanta, Georgia
Ty Colliers is a 25-year-old "hustler" who has made a living dancing in adult clubs and running pool tables. Growing up in foster care, Ty learned from a very young age to depend on herself for survival. Ty even did some jail time as a juvenile after running away from a home she was placed in. Underneath her "tough girl" exterior, Ty aspires to be a positive influence to girls who have struggled as she did - to let them know they are not alone. Ty is also an aspiring songwriter and is working on her autobiography called "Love Me or Hate Me."
Zara Sprankle
22
Cicero, New York
Zara Sprankle is an original bad girl on Season 1. Zara was 22 and she resided in Cicero, New York during filming
Replacement Bad Girls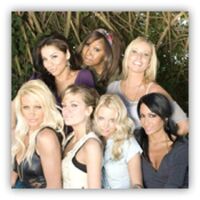 In every season of the Bad Girls Club one or more girls will be asked to leave the house either to violence or physical fighting which then gives the producers a chance add a new "bad girl" which arrives to the house in a day or two to replace the fellow bad girl.
Image

Bad Girl

Age

Hometown

Replaced

DeAnn Witt
24
Dallas, Texas
"Ripsi"
DeAnn Witt is a replacement bad girl on Season 1. DeAnn replaced Ripsi in episode 5. She was 24 and resided in Dallas, Texas during filming.
Joanna "JoJo" Hernandez
23
California, Sacramento
"Ty"
She is often confused for her William & Mary counterpart, 21 year-old Joanna X. Hernandez. While this confusion has become quite cumbersome in the past few weeks, Bad Girls star Hernandez recognizes that her counterpart's dance moves deserve recognition and could only serve to bolster her own reputation. Notable similarities between the two include: a passion for human rights activism, an affinity for critical thought, and the twerk-ability only previously seen on a formal team. Both Joanna's would like their fans to know that they are eternally grateful for their constant and dedicated support and are willing to send an autograph to any loyal follower.
AL
26
High Point, North Carolina
"Leslie"
AL is a replacement bad girl on Season 1. AL was 26 years old and resided in Highpoint, North Carolina during filming
Summary
When seven bad girls from all parts of the country move in together to make a change, their strong personalities collide. Throughout the night Ripsi's goes on a rampage and the Bad Girls have had enough! After attacking the others, Ripsi's time might be up... and her roommates have the final say. The Bad Girls determine Ripsi's fate once and for all. At a house meeting, Ripsi's fate is determined once and for all! Then, Kerry gets cosy with the hot pool boy... right after her boyfriend leaves the house. Meanwhile, Zara infuriates her roommates while bonding with Tomik. Zara's fallen head over heels for Tomik, the pool boy's buddy, and her roommates are not happy about it at all. To everyone's surprise, Ripsi's replacement arrives. Ripsi's replacement has arrived and everyone loves her... except Aimee that is. the new replacement seems hopefully to win the girls over before a divide strikes the house. Tomik and Aimee get into a big argument, upsetting Zara. But when Tomik apologizes to Aimee, she gets the impression that he's hitting on her. Zara makes a racially insensitive comment, it starts a feud between her and Leslie. Leslie's seems to May attempt to ignore Zara or this sparks another battle. Riddled with Bad Girl behaviour, DeAnn and Kerry play outrageous pranks on Jodie during a camping trip, which makes Jodie feels like the outcast. A fight between two Bad Girls ruins an fun-filled day at the beach when Ty and Aimee's strong personalities collide. Aimee's had enough of Ty's drunken antics and tensions escalate. Saddened by Ty's absence, Leslie isolates herself and considers leaving the house. When Tomik's interest in Zara fades, she decides to take some revenge. DeAnn hooks up with pool boy Steve and makes a rash decision she will never forget. Major drama alert! Zara tells Kerry that Aimee has been criticising her career, rekindling the feud between Aimee and Zara. Jodie's religious beliefs are put to the test when she poses in sexy lingerie during a photo shoot. Plus, the roommates suspect that the house is haunted. Leslie's attempts to improve her life are disrupted by her uncommitted roommates and she must make a big decision affecting her future in the house. Zara's promiscuous ways get her in trouble when her boyfriend shows up for a surprise visit! Meanwhile, Kerry has the career opportunity of a lifetime. Two new Bad Girls move in... and the veteran roommates are not pleased! Tensions rise between the new and the old roommates as battle lines are drawn. After being ditched by Zara at a club, Aimee plots to turn everyone in the house against her... At least the new girls are finally bonding with the veterans. Bad Girls need love too! DeAnn and Steve's relationship takes a turn for the worse, while Jodie tries to salvage her fractured relationship with Kerry. Later Fuelled by the ongoing drama in the house, all the girls turn on Jodie. With such little time left together which results in Jodie leaving the bad girl house. The girls prepare to leave the mansion and focus on mending relationships before they depart... But before leaving, one Bad Girl gets the shock of her life. The girls return to the house and meet with a psychologist to help re‐examine their actions. But not all the ladies agree with the doctor's advice. After the reunion It's a full access pass inside the BAD GIRLS CLUB! Get the scoop as the girls dish on the most outrageous, never-before-seen moments from season one.
Duration Of Cast
Bad Girls
Season 1 Episodes
1
2
3
4
5
6
7
8
9
10
11
12
13
14
15
16
17
18
19
20
21
Aimee
Aimee
Aimee
Aimee
Aimee
Aimee
Aimee
Aimee
Aimee
Aimee
Aimee
Aimee
Aimee
Aimee
Aimee
Aimee
Aimee
Aimee
Aimee
Aimee
Aimee
Aimee
Kerry
Kerry
Kerry
Kerry
Kerry
Kerry
Kerry
Kerry
Kerry
Kerry
Kerry
Kerry
Kerry
Kerry
Kerry
Kerry
Kerry
Kerry
Kerry
Kerry
Kerry
Kerry
Zara
Zara
Zara
Zara
Zara
Zara
Zara
Zara
Zara
Zara
Zara
Zara
Zara
Zara
Zara
Zara
Zara
Zara
Zara
Zara
Zara
Zara
DeAnn
DeAnn
DeAnn
DeAnn
DeAnn
DeAnn
DeAnn
DeAnn
DeAnn
DeAnn
DeAnn
DeAnn
DeAnn
DeAnn
DeAnn
DeAnn
DeAnn
DeAnn
Joanna
Joanna
Joanna
Joanna
Joanna
Joanna
Joanna
Joanna
Andrea
Andrea
Andrea
Andrea
Andrea
Andrea
Andrea
Andrea
Jodie
Jodie
Jodie
Jodie
Jodie
Jodie
Jodie
Jodie
Jodie
Jodie
Jodie
Jodie
Jodie
Jodie
Jodie
Jodie
Jodie
Jodie
Jodie
Jodie
Leslie
Leslie
Leslie
Leslie
Leslie
Leslie
Leslie
Leslie
Leslie
Leslie
Leslie
Leslie
Leslie
Leslie
Leslie
Leslie
Ty
Ty
Ty
Ty
Ty
Ty
Ty
Ty
Ty
Ty
Ty
Ripsi
Ripsi
Ripsi
Ripsi
Ripsi
Notes
Key:

    

= "Bad Girl" appears on this episode.
Key:

    

= "Bad Girl" voluntarily leaves house.
Key:

    

= "Bad Girl" replacement arrives.
Key:

    

= "Bad Girl" is removed from house.
  1  Ripsi was removed from the house in episode 3 after she had physically attacked Kerry and Jodie.
  2  DeAnn replaced Ripsi in episode 5.
  3  Ty was removed from the house in episode 9 for starting a physical altercation with Aimee.
  4  Leslie voluntarily leaves the house in episode 14 after she felt no one was doing anything to change.
  5  Joanna and Andrea both replaced Ty and Leslie in episode 15.
  6  Jodie voluntarily leaves the house in episode 19 due to a heated argument with Kerry.
Episodes
Image
Title
Original Airdate
Prod. Code
 
1. "It's Easier to Be Bad"
December 5, 2006
101

Plot: Seven women, settle into their new house and start to get to know each other. A night out at a club turns to the worse for Leslie when a fight breaks out between her and a security guard. Meanwhile, the other girls discover Jodie's carelessness for not sticking up for Leslie.

2. "A Rude Awakening"
December 12, 2006
102

Plot: After a night of fun yoga, Ripsi starts to attack Kerry.

3. "Quick Fix"
December 19, 2006
103
Plot: The episode continues with Ripsi attacking Kerry and Jodie. Kerry's boyfriend comes to visit. Ripsi is eventually sent home.

Note: Ripsi is removed from the house.

4. "A Tomik Bomb"
January 2, 2007
104

Plot: Zara gets on the girls bad side, and seems to completely disregard her boyfriend's feelings as she pursues Tomik. Kerry and Jodie become closer, and room together.

5. "Out With the Old, in With the New"
January 9, 2007
105

Plot: A new roommate arrives and makes instant friends with everyone except Aimee. Zara continues to hook up with Tomik, even though she has a boyfriend waiting for her back home.

Note: DeAnn replaces Ripsi.

6. "The Trouble With Boys"
January 16, 2007
106

Plot: Arguing between Tomik and Aimee upsets Zara, but what she finds even more troubling is Aimee's claim that Tomik has a wandering eye. Meanwhile, Jodie becomes very interested in a cute guy.

7. "Miss Understanding"
January 23, 2007
107

Plot: Zara gets on Leslie's bad side after she makes a racially insensitive comment.

8. "Not a Happy Camper"
January 30, 2007
108

Plot: DeAnn, Kerry, Jodie, and Zara go on a camping excursion. DeAnn and Kerry wanted to pull a prank on Jodie but instead pull one on Aimee. Meanwhile, at the house, Ty confronts her problems with her boyfriend, Juan. Aimee takes the prank a little too personal, and decides to do some damage.

9. "Smack My Beach Up"
February 6, 2007
109

Plot: Ty and Leslie engage in a boozy night out and return home to a mightily irked Aimee. Later, bad blood boils between Ty and Aimee, who make waves during a beach excursion. Elsewhere, being home alone gives Jodie and Zara an opportunity to lay bare their sexy and silly sides.

Note: Ty is removed from the house.

10. "And the Walls Come Tomberlin Down"
February 13, 2007
110

Plot: After Ty's departure from the house, Leslie is stuck on leaving as well. Meanwhile, Kerry meets up with singer/songwriter Bobby Tomberlin. Kerry feels Jodie stole her spotlight at the meet with Bobby, and is very angry with Jodie.

11. "Drop of a Hat"
February 20, 2007
111

Plot: Zara seeks revenge against Tomik when his romantic interest in her withers. DeAnn and Pool Boy Steve get really close.

12. "She Said, She Said"
February 27, 2007
112

Plot: The claws come out when Zara informs Kerry that Aimee has been insulting her, which in turn only makes the feud between Zara and Aimee worst.

13. "Holy Ghost"
March 6, 2007
113

Plot: Jodie wears sexy lingerie for a photo shoot. DeAnn and Jodie get into it when DeAnn tells Jodie how she feelt about the photo shoot. Meanwhile, things get spooky when the girls believe that the house is haunted.

14. "What Are Little Girls Made Of?"
March 13, 2007
114

Plot: Leslie seeks to leave the world of exotic dancing; Zara's wild antics disrupt her roommates' lives; Leslie's unsure about her future in the house and ultimately decides to leave.

Note: Leslie voluntarily leaves the house.

15. "Kiss and Tell"
March 20, 2007
115

Plot: Zara confesses her sextracurricular activities to her boyfriend after he makes a surprise visit. Meanwhile, Kerry meets a music producer and a shocking surprise comes the gals' way.

16. "Rocky Road"
March 27, 2007
116

Plot: Tensions rise between the new and old roommates; Jodie gets a modeling opportunity at a runway show and is determined to show that it isn't necessary to be ultra thin to succeed.

Note: Joanna & Andrea replaces both Ty & Leslie.

17. "Chicken Scratch"
April 3, 2007
117

Plot: After Zara ditches Aimee at the club, and takes part in trashing the house, the other girls in the house become fed up with Zara's behavior.

18. "A Little Dirty About Steve and DeAnn"
April 10, 2007
118

Plot: Steve ends up kissing another woman following an argument with DeAnn.

19. "Lord of the Lies"
April 17, 2007
119

Plot: Kerry heads to Nashville, Tennessee, to pursue a music career while the housemates pick on Jodie.

Note: Jodie voluntarily leaves the house.

20. "Happy Ending"
April 24, 2007
120

Plot: Before the roommates attempt to reconcile broken friendships as they anticipate their exit from the house, a flirty Zara rarifies the girls' attempt to stage a charity fund-raising event.

21. "Shrink Wrapped: Reunion"
May 1, 2007
121

Plot: he original ladies of the season come together back at the house, excluding Jodie, to discuss with Stan Katz, a psychologist regarding their behavior this season. The psychologist's advice isn't something Aimee and Ty agree with. Later, Ripsi asks Kerry for forgiveness.

22. "Outrageous & Unseen"
June 5, 2007
122

Plot: Aimee, Ty, Zara, Leslie and Ripsi showcase highlights plus unseen footage from the first season. Three of the housemates prepare to leave for the Bad Girls Road Trip.