Season 1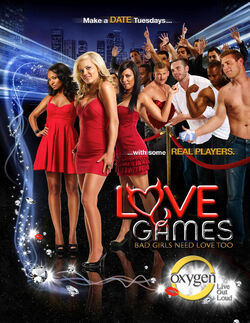 Series Information
Los Angeles, California
March 26, 2010 - May 4, 2010
8 episodes
Sarah Michaels
Nick Christensen
Cast
Series Chronology
--
Season 2
Season 1 is the first season of Bad Girls Club's spinoff, Love Games: Bad Girls Need Love Too. It is the second spin-off overall in Bad Girls Club. The season premiered on March 16, 2010, and it ran for 8 episodes. It features Season 3 bad girl alumna Amber Meade and Sarah Michaels, and Season 4 alumna Kendra James.
Format
The alumni from Bad Girls Club are destined to "look for the man of their dreams" and it takes place in a former Bad Girls Club house from previous seasons. Three bad girls have to choose 13 bachelors to explore love, friendships, etc. Each week consists of challenges and dates.
Proposition
Love Games features three former "bad girls" from Bad Girls Club— Amber Meade and Sarah Michaels, both of season three, and Kendra James of season four. The show revolves around the three girls trying to find the right man out of thirteen bachelors. Each week features challenges for the bachelors and group dates. Bret Ernst hosts the eight one-hour episode season. It premiered after The Bad Girls Club's season four first two-part reunion special on March 16, 2010, at 11 p.m. ET/PT, but moved to its regular timeslot on March 30 at 10 p.m. ET/PT. The season finale aired on May 4, 2010.
Cast
Bad Girls
| Name | BGC season | Eliminated |
| --- | --- | --- |
| Sarah Michaels | Season 3 | Winner |
| Kendra James | Season 4 | Runner-Up |
| Amber Meade | Season 3 | Episode 7 |
Contestants
| Name | Hometown | Age | Nickname | Eliminated |
| --- | --- | --- | --- | --- |
| Nick Christensen | San Diego, California | 23 | The Scarred Lover | Winner (chosen by Sarah) |
| Matt Cosmos | Middlebury, Connecticut | 21 | The Rowdy Athlete | Runner-up (chosen by Kendra) |
| Tim Holloway | Pevely, Missouri | 25 | The Businessman | Episode 8 |
| Justin Redd | Fullerton, California | 22 | The Player | Episode 8 |
| Joe Piccirello | Glendale, Arizona | 24 | The Guy Next Door | Episode 7 |
| Dan Michael | Seattle, Washington | 23 | The Hopeless Romantic | Episode 6 |
| Devan Greene | Sherman Oaks, California | 21 | Mister Universe | Episode 5 |
| Akoni Clubb | Makawao, Hawaii | 24 | Lei'd Back Surfer | Episode 4 |
| Michael Hopkins | Syracuse, New York | 27 | The Intellect | Episode 3 |
| Dante Ross | Barrington, New Jersey | 29 | The Jersey Chef | Episode 2 |
| Kyle Tosh | Cleveland, Ohio | 25 | Small Town Thrill Seeker | Episode 1 |
| Dathan Brown | Albuquerque, New Mexico | 22 | The Devout Christian | Episode 1 |
| Joey Malloque | Gig Harbor, Washington | 24 | MILF Hunter | Episode 1 |