Brittany "Britt" Britton (also known as The Country Hustler) is an original bad girl on Season 12. She is currently 28 years old.
Personality
With her loud personality, Britt is always the life of the party and works as a shot girl to fill her appetite for money and alcohol. She's a self-proclaimed hustler who demands respect and believes she has the ability to convince people to do anything she wants. Growing up wasn't easy for her; in her mom's absence, she designated herself as the mama bear to her siblings and was taxed with the responsibility of being their perfect role model.  Although, she knows she hasn't always been perfect, she hopes to use the time in the BGC house to focus on herself.
History
Season 12: Chicago
Bad Girls
Episodes
Episode 1
Episode 2-6
Episode 7-10
Episode 11
Episode 12
Britt
Britt
Britt
Britt
Britt
Britt
Britt was removed from the house in episode 12 after physically attacking and harming Dalila.
Britt was replaced by Raesha in Episode 13.
Fights
== Gallery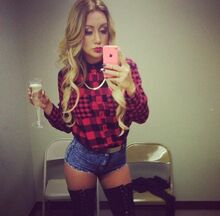 ==