"A Royal Tumble" is the seventh episode of Bad Girls Club's fourtenth season and the two hundred and twenty-three overall. It aired on September 29, 2015.
The house is divided by Jela & the Twins vs. Jasmine,Lauren & Jenna. Kat is on the side being cool with both party's. Intentally Jela & the Twins plan to leave to the club without the 2 other girls on purposed. after the events happen, Kat is furious with angry at Jela & the Twins. Jasmine, Jenna, hype Kat & Lauren to finally snap and get the other girls out of the house. This leads to chaos, with personal belongs being  touched & damaged. Jela & the Twins are forced to leave the Bad Girls House for threatening the other girls as including production. this brings 
Summary
Jasmine & Jenna are in kitchen recalling the previously night. Jasmine had meltdown, due to her having sex on camera with her boo-thang name 'Mike".  She had intentions to go home after feeling humiliated of mainly, what her father would think after viewing the episode when it airs . She stated she wasn't proud of it after. She thanks Jenna, Lauren many times for being by her side. 
Starring Cast
Jasmine Carter
Jelaminah "Jela" Lanier
Kathryn "Kat" Florek
Lauren Lewis
Shannade Clermont
Shannon Clermont
Jenna Charland
Amber Zadora
Beatrice "Ginger" Miller
Trivia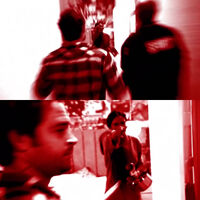 Majority of the footage shown of Jela & the Twins coming inside the house to find their belongs ruined was cut up or mostly is unreleased due to how far the dramatic events turned.[1]
Jela confirmed from entering the gate, their belongs were scattered everywhere along the house. (bushes, lawn, inside the house. ( Trio's mattresses ruined with body fluids, bathtub filled with more belongs along body fluids [2]
Jela & The Twin's were frustrated with the situation at a point they starting going crazy on the BGC crew and the house itself due to the seriousness point of their belongs being completely damaged
Shannade pointed a Knife at BGC security & camera man.[3] (comfirmed by Jela)
Jela said producers were trying to hype the 3 girls up during the middle of all this most likely so they would leave the house like previously BGC seasons of leaving with a bang. (examples: Nikki Vs Valentina BGC10, Statis Vs Shelly BGC7, Shane Vs The House BGC 11) [4]
All 7 Girls were all sent to hotels leaving the BGC Mansion empty for the night. This is the first situation that producers couldn't avoid the issues within BGC franchise. [5]
Jela & the Twins were being man-handle by BGC security which is why Jela states she was in her bra and underwear so they couldn't grab hold of her during the chaos. [6] (confirmed by Jela)
Jela was assaulted by female producer and security guard on the show. The female Blonde producer who notability seen during Season 9 taking to Meghan after her fight with Rima & Falen. Also known for breaking up Sarah & Mimi's fight during BGC11, where she told all girls to "Stand over there, Don't do it, Stand over there". She pushed Jela from behind when the Trio was wrecking the house. [7] (confirmed by Jela)
Jela & the Twins came back the next day to get their belongs but right away when arriving to the house Jela told BGC crew to "Turn the camera's off". [8] (confirmed by Jela) (confirmed by Jela)
Jela & the Twins didn't sign a waiver which meant BGC crew would not have permission to film the girls.[9]
BGC production was eager to finished their storyline with the ladies, they tried to manipulate them by not giving their phones when asked by them. continuing trying to film even after told not to. This result in the Trio running hysterically screaming in hopes to alert nearby neighbors to call for help. [10] (confirmed by Jela)
Jela was put in a Choke hold on the side of the house by a security guard who stated "He ain't a regular security". He also mention to her " There's no camera's right here, I'll fuck you up". Jela was mentally abused by this experience[11] (confirmed by Jela)
Production didn't want the girls to call and get Police or Ambulance involved. When arrived law enforcement had to make BGC crew go away so the girls can tell them what actually happen that night events took place. [12] (confirmed by Jela)
in 2015 shorty after airing a Lawsuit was made by Jelaminah "Jela" Lanier, Shannon & Shannade Clermont against Bunim/Murray Productions, after violently beefing with other show stars who damaged their personal belongings. Some of the items ruined in the brawl included Louboutins, Chanel bags, and other designer pieces, totaling about $200k in damages.[13]
Gallery
Videos